Scup, Sea Bass, Fluke, Striper and Tuna (Oh My!) Report, June 26-28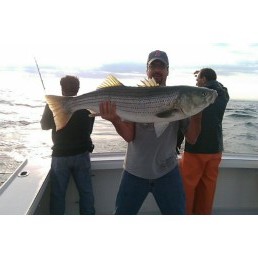 Capt. Joe Huck on the Helen H had quite a bit of interesting news over the weekend-on several fronts. At the Angler's helm Friday and Sunday, Capt. Walt knocked out a couple of the last scheduled porgy trips for the 2010 season, once again taking a long ride for greener pastures well south and west of the Fleet's traditional spring/early-summer grounds, fishing the various humps, bumps and rockpiles around Noman's, just off the Vineyard's SW corner. Since Nantucket Sound went quiet a week or two ago, these grounds to the west'ard have been coughing up excellent catches of scup, most of them upwards of a pound, with the occasional three-plus Joe in the mix. Sea bass also added to the tally-no real corkers, but a slow, steady pick of keepers up to about the 2-pound mark, plus a handful of nice triggerfish and a fluke or bluefish here and there.
The last porgy trips-to be wrapped up in the next week or two-are make-up charters. Though porgy season is now kaput for the Fleet, August through September typically see a very strong sea bass run, so you'll have another crack at the prime fillets a bit later in the season.
Sunday marked the beginning of the Helen's limited-load Nantucket Fluke trips, with a relatively light load of passengers and an excellent showing of quality slabs. There were no real doormats on the trip-big fish scaled 6.5 pounds-but the keeper-to-short ratio was nothing short of impressive, with big numbers of fish in the 4- to 5-pound range. The more experienced guys at the rail had no trouble filling limits with jumbos. The usual arsenal worked fine, with perhaps a bit of an edge for the guys using light rods, light braid and smaller jig/feather or fishball/feather teaser combinations. For those using the very fine braided line which delivers maximum sensitivity and allows anglers to tend bottom with a minimum of weight, Huck advises tying in a 15- to 25-foot topshot of mono or fluorocarbon, thereby insuring tangles are mono-to-mono, rather than braid-to-braid or braid-mono. Dropper loops do the job of three-way swivels, and barrel swivels outshine snaps: as always, the less hardware, the less tangles and the more time fishing throughout the course of the trip.
For this week, the Helen will be running single half-day trips in local waters, leaving the dock at 10 a.m. and returning at 2 p.m. Huck hopes the light fishing schedule this week will give the crew ample time to catch up on the never-ending maintenance and dig the last of the scup-spine fragments out of their fingertips.
In other news, the Fish Hawk had a couple of slammer bass trips out to the rips off Monomoy, where Capt. Joe Weinberg and mate, Jeff Capute, used shell squids on light tackle to put as many as 50 keeper-sized bass in the boat. Big fish to date, landed on Saturday by Hank Marques, scaled an impressive 40-plus pounds (see photo, top right). The bulk of the bass at this point in the season are in the 8- to 10-pound (keeper-size) class, though there's generally a nice mix of sizes off Monomoy-teens, 20s and 30s, with the very real possibility of sticking a true trophy linesider. The Fleet's six- and four-pack boats-the Fish Hawk, Sea Hawk and new Isabella H-have plenty of openings during the peak of this run, which is about as good as it gets right now. If you're after some memorable high-summer striper action, here's your chance.
School/ medium bluefin tuna reports are filtering in from both Cape Cod Bay and the grounds east of Chatham; to capitalize on the summer tuna bite that has been so fast and furious for the last few seasons in the Bay, Huck plans to trailer the Fleet's 29-foot custom-rigged Triton center console, the Sea Hawk, to the Cape's north shore, shaving valuable time off the steam to the grounds. That boat can accommodate parties of up to four anglers. Early reports indicate the fish, ranging in size from 30 to better than 200 pounds, have been inhaling slow-trolled or kited live baits like pogies or mackerel, as well as squid bars. And, as has been the trend for at least three years, the school tuna are also accepting an array of cast offerings-Butterfly Jigs, surface plugs, Slug-go's and swimmers. Landing a 150 bluefin on spinning gear is about as sporty as tuna fishing gets anywhere.
One other interesting detail, this from Saturday's canyon pelagic bird watch, during which a group of bird fanatics caught glimpses of an array of exotic offshore sea birds like White-faced and Banded Rump Storm Petrels, Audobon Shearwaters and Bridal Terns.
Not to be discouraged from wetting a line, ace mate Matty kept a very close eye on the Angler's RPM's and the surface-temp recorder, and put out a light spread as soon as the boat's speed slipped back to 15 knots. Trolling between Veatch's and Hydrographer, Matty managed to sneak three tuna (two yellows and a football bluefin) over the stern rail while the bird fanatics studied the horizon with binoculars from up top. Huck estimated the fish to be in the 40- to 60-pound range. Water temps ranged from 71 to 73 degrees. Needless to say, there's some early life making an appearance along the edge, and all hands are cautiously optimistic we'll see a better shot of fish in the canyons this summer and fall.
There's an insane amount of insanely good fishing to be had within easy range of the Helen H Fleet's Hyannis base camp, and now is the time. Call the office (508-790-0660) for scheduling updates or reservations, and let them know you've been checking out these reports.