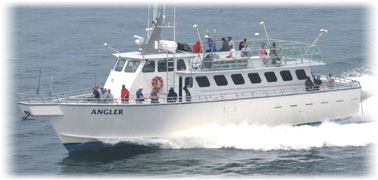 75′ Party Boat
The Angler is a 75' Performance Marine built fishing machine. It's equipped with 3- 740hp MTU 60 series engines driving 3 Hamilton water jets. As the only water jet powered passenger fishing boat it clearly is the fastest at 30 knots. This gives us the range to get our groups to the location of the fishing grounds is the best.
We specialize in small charters in the 12 – 20 passenger range, giving you and your friends or clients a personal, spacious and exclusive charter.
The Angler is Coast Guard Certified for safety every year. We also handle larger charters up to 60 people. During the months of July and August the Angler also runs Seal Watching and Kids Sea-Fari trips, for both open boat reservations and private parties.
Click here to see the Helen H and Angler schedule
Prime Fishing Seasons & Species



SHADED




IS BEST

COD

HADDOCK

BLUEFIN TUNA

FLUKE

PORGIES

(SCUP)

SEABASS

SQUID

STRIPED

BASS

BLUES

TAUTOG

(BLACKFISH)

JAN

X

FEB

X

MAR

X

X

APR

X

X

MAY

X

X

X

X

X

JUNE

X

X

X

X

X

X

X

JULY

X

X

X

X

X

X

X

AUG

X

 

X

X

X

X

 

X

X

 

SEPT

X

X

X

X

X

X

OCT

X

X

X

X

X

X

NOV

X

X

X

 

X

DEC

X