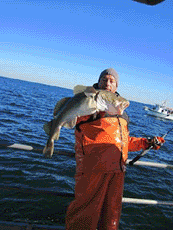 100' Helen H and the Capt Lou Fleet join forces!
Sailing daily *Approx 3AM – Reservations required – Fare $ 120.00 per person
*Time is subject to change due to when cod fish are biting. Call Helen H office answering machine for exact departure time and availability.
Boat will be limited to 60 fishermen. Rod rental equipment will be top-quality Shimano rods and reels.
The experienced crew from the Helen H and Capt. Lou will be back in Montauk for another winter Cod Fishing Season. Our 2011 season last year went rather well with closer fishing grounds and a lower fare due to a reduction of our fuel consumption. The Helen H will start running daily January 7, 2012.
We look forward to seeing you for the 2012 season.
Reservations Helen H office (508) 790-0660
Capt Lou's office (516) 623-5823 (you can book through either office – online booking coming soon)   Hotels
Montauk Manor
 – (631) 668-4400 Indoor pool, fitness center, spa, Jacuzzi, squash courts, restaurant and bar, and the nicest rooms and suites in Montauk.   Directions Departing from Liars Saloon – 401 West Lake Drive, Montauk, NY