Sea Hawk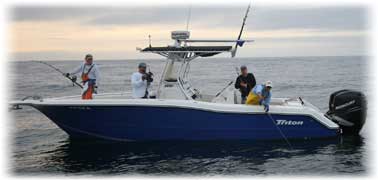 The newest and fastest charter boat in New England!  Local and offshore fishing for doormat fluke, cod, bass, tuna, sea bass, scup, blues, and more!
The Sea Hawk is a new 30' Triton center console powered by 2 – 250 hp Mercury Verado engines. She travels at speeds up to 50 knots. With the Verado engines she is whisper quiet and can handle groups from
1 – 5 passengers.
The Sea Hawk is part of Team Triton/Mercury and is a "Northeast Angling" staff boat. We have multiple locations to sail from on Cape Cod including but not limited to Hyannis Harbor, Barnstable Harbor, Harwich and Falmouth Harbor. This puts us closer to all of the best fishing grounds in Nantucket Sound, Vineyard Sound and Cape Cod Bay. In addition the Sea Hawk is available for Whale Watch trips to Stellwagen Banks and Chatham inlet, as well as Sea Watch charters to Monomoy Island. These are the best family excursion trips happening on Cape Cod.
Prime Fishing Seasons & Species



SHADED




IS BEST

COD

HADDOCK

BLUEFIN TUNA

FLUKE

SCUP

(PORGIES)

SEABASS

SQUID

STRIPED

BASS

BLUES

TAUTOG

(BLACKFISH)

JAN

 
 
 
 
 
 
 
 
 
 

FEB

 
 
 
 
 
 
 
 
 
 

MAR

 

X

 
 
 
 
 
 
 
 

APR

X

X

 
 
 
 
 
 
 
 

MAY

 

X

 
 

X

X

X

 
 

X

JUNE

 
 
 

X

X

X

X

X

X

X

JULY

X

 

X

X

X

X

 

X

X

 

AUG

X

 

X

X

X

X

 

X

X

 

SEPT

X

 

X

 

X

X

 

X

X

 

OCT

 
 

X

 

X

X

 

X

X

X

NOV

 
 

X

 
 
 
 

X

 

X

DEC